From Tuesday's edition of the
Portland Tribune
:
"This was SantaCon. For the 10th year, anyone and everyone who cared to join in the wearing of cheap Santa suits could partake of more than 12 hours of raunchy revelry.

There were Santas with spanking paddles, Santas chain-smoking, Santas making out with other Santas, Santas handing out unending strings of one-dollar bills to gyrating girls.

During their 'Santa games' at Waterfront Park, they launched fruitcake after fruitcake into the air.

'I think the reason the fruitcakes were not lit on fire as originally planned was because we had acquired a police escort by then,' said S.W. Conser, 40, of Northeast Portland, who on this day went by the name 'Santa Stinkbeard.'

The Santas met at Saturday Market at noon. They would not stop until they reached their final destination, the Fez Ballroom, at 11 p.m.

In between, they tried to talk their way past security into the Meier & Frank Santaland. They paid homage to the departed Chinatown landmark bar Hung Far Low and sang carols in front of random houses on side streets near Northwest 23rd Avenue. They attended a screening of clips from frighteningly bad Santa-themed movies — 'Santa Claws' and 'Silent Night, Deadly Night' among them.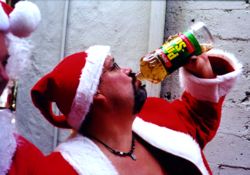 Here's a link to the
story
While all this was happening I was stuck in a waiting room at Les Schwab waiting for a tire to be fixed. And I'm completely forgot about the event. I've been meaning to attend SantaCon for three years now. The photo opps at Mary's Club alone would have been worth the trip. Sure, the place doesn't allow cameras but I'm typing hypothetically here.
For those us who like to live vicariously through the internet, there's tons of photos and footage of the event
over here
. To cut straight to one video, which includes footage of the coed Santas tossing a man in a tree outfit around Waterfront Park, dancing drunkenly in Pioneer Square and launching cakes into the Willamette,
click here
.
Someone I went to high school with also posted
this footage
of the mob chanting "SANTA NEEDS A DRINK!" Hi,
Rob
.