Tomorrow my favorite movie of all time will be released on DVD. Now I could like and say it's really Ingmar Bergman's Persona or La Dolce Vita but it would be an outright and obvious lie. No matter what anyone tells you, viewers don't
love
those films, they merely respect and/or fear them. Favorite movies OAV tend to be campy, cheesy and unhealthy, the
cinematic equivalent of Spaghetti O's
.
Ask around. If the question is directed at someone born after 1970, honest answers will yield the likes of Logan's Run, the Princess Bride, Evil Dead 2, Raiders of the Lost Ark or (gasp!)
Dirty Dancing
. There are a billion of websites out there devoted to The Rocky Horror Picture show and plenty of fans that claim to have seen it 500 million times. I dare you track down a devotee of something like Amadeus that's actually sat through more than three viewings or a site that examines every minute nuance.
I'm proud to announce that my #1 movie is not something like Endurance or The Godfather, it's
The Empire Strikes Back
.
Laugh all you want. I could prattle on about how the themes in George Lucas' space opera are on the same level as anything in Shakespeare's or Coppola's catalog sans the drag of iambic pentameter and
ultra-confusing mafia hierarchies
. After all, Hamlet and the original Star Wars trilogy have the exact same premise. In both, a young protagonists struggles to come to terms with his identity and whether or not to kill a father-figure with a mad lust for power. If you want, feel free to stretch the analogy to the Godfather but toss out the patricide.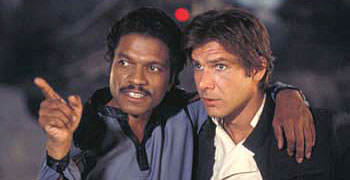 Enough with the tired ENG. 201-level analysis. The Star Wars trilogy is finally being released on DVD tomorrow and I may be the only male under the age of 30 in this country that won't be rushing out to by it. The box set is currently sitting at the crest of Amazon's top sellers list and A&E and Vh1 have been promoting the set all week long in various TV specials. The release is being hyped like a major film release and I've never been one to resist the overpowering influence of consumer-culture hype.
If Lucas had the common sense to release the set ala Spielberg's ET with both the original and updated versions in tact, this would be an easy sell. Along with the alterations made in the 1997 "Special Edition" re-release, the director has made
another slew of changes,
including:
- Temura Morrison, who played Jango Fett in Attack of the Clones, now voices Boba Fett.
- The "Celebration Scene" that closes Jedi features a shot of Gungans dancing on the rooftops of Naboo, one of them while shouting, "Weesa free!"
- Greedo and Han now
shoot at the same time
.
- And, yeah, there's this:
Then, on the other hand, the set includes a fourth disc includes a 2.5 hour documentary and footage of
an Ewok smoking a cigar
along with Kurt a portion of Kurt Russell's audition tape for the role of Han Solo. As a child of the 1980s, how can I resist the lure of a two-second shot of an
Ewok smoking a cigar
?
Ugh. For some megalomaniacal sci-fi icons there's no such thing as leaving well enough alone. And for some bloggers there's no such thing as beating a dead horse. Curse you and your reverse perfectionism, George Lucas!