USA Today, Gallup's and Time? Yawn. If you really want to know
the winner of the presidential election a month early
you have to pay attention to the sales for
Halloween masks
. The poll, organized by buycostumes.com, was reportedly based on the sales number for five different companies over the years. Have a look: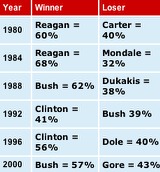 The winners have sold the most masks in every election since 1980. So how are Bush and Kerry's masks doing? Drumroll...
"Sales stats as of 9/25/04:

BUSH: 56%
KERRY: 44%"
Maybe that
Gallup poll
that made headlines last weekend wasn't so far off. Sheesh,
a 12% lead
! But, come on, isn't the mask for GW a wee bit more flattering? Kerry's is hideous and looks like the sort of thing that would strapped to the head of an extra in a Troma film. And what part does the
Dean mask
play in all of this?
I smell a conspiracy.
Given this site's namesake, I'm pretty much required to post this:
Yeah, that's supposed to be Laura and isn't that thing
15 times more frightening
than those old Freddy Krueger masks? Really, it's the stuff of nightmares.