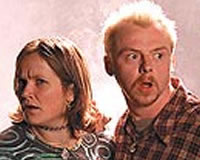 The British sitcom,
Spaced
, is airing on
Trio
all week at 7 and 10 PM PST/EST. Why should you care? Because the same team that produced and acted in this will be appearing in the new zombie movie everyone's
creaming their jeans over
,
Shaun of the Dead
. If you subscribe to digital cable, get it free from your employer or have the smarts to steal it, switch your dial on over.
It's been a cult hit overseas since '99 but this is pretty much the first time Spaced has become available in the states. I watched the premiere and the second episode last night. It's pretty gosh darn good. The premise centers around a comic book artist and a would-be journalist. After he's dumped by his long-time girlfriend, they move into an apartment building on a whim and subject themselves to various, wacky adventures. The place is populated by an abstract artist, raver kids, a suspicious landlord and
evil Girl Scouts
.
Who cares if the main characters best friend is an obvious rip of Walter "Mark It Zero, Dude" Sobchak? The references to '80s geek culture are endless (the two loaf around a dull party while listening to "The Power of Love" in the second episode) and the whole thing plays like a live-action web comic drenched in hash smoke and funny accents. For fans of
Penny Arcade
, endlessly quotable dialog and British comedy, this could be another bit of pop-culture
worth obsessing over
.