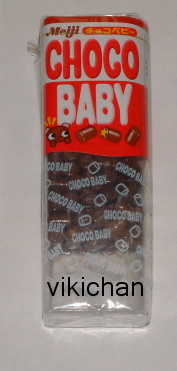 Choco Baby, Choco Baby
Little chocolate pills, makin' me craz-e,
Eat one, eat two, eat three...dozen
So full of Choco Baby, feel like I've got a bun in the oven....
...OK, so my lifelong ambition of becoming a jingle writer for Japanese candy companies isn't likely to become a reality. This little ditty might make double as great porno theme song though.
Of all the brands of Nihongo junk food that make it over to the states, Choco Baby are probably my favorite. They're glossy chocolate tabs that come in a Tic Tac containers and look sort of like the thing
people living in the year 3000
will one day much on. The spokesman on the label, an adorable cartoon cat, betrays the "World of Tomorrow" appeal of the chocolates themselves. Plus, the candy shares the same name as untold numbers of '70s-era prostitutes and/or pimps.
Choco Baby tastes like all candy imported from Japan- half as sugary as the US equivalent and, well, just plain weird. I guess the true appeal is that they also look like
rabbit droppings
...delicious, chocolaty rabbit droppings.
I was once addicted to Choco Baby (feel free to use this quote out of context) but I had to kick the habit when Uajimaya, the
Asian food
superstore
in Beaverton, mysteriously stopped carrying them. I've since hopped on the
Pocky
bandwagon but it's just not the same. As you can guess, Coco Baby, given the fecal factor, were not only great to eat but
fun to leave on coworkers' desks
. *sigh*
Well, you've just spent the last 30 to 90 seconds reading a blurb about a Japanese candy brand with an NC-17 name that resembles
futuristic bunny poop
. How does this make you feel?