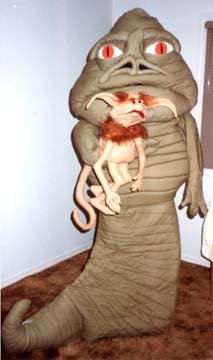 "Make no mistake, as emperor, Palpatine is a dictator--but a relatively benign one, like Pinochet. It's a dictatorship people can do business with. They collect taxes and patrol the skies. They try to stop organized crime (in the form of the smuggling rings run by the Hutts).
The Empire has virtually no effect on the daily life of the average, law-abiding citizen."
This from a
Weekly Standard
article
that was published back in 2002. Wait, the Empire was good?
Luke, Chewie and all the rest = bad?
The author makes a decent argument but, aside from a few well-directed barbs against the ineffectiveness of the Galactic Senate, his completely unable to defend their brutality. Or all that pesky Nazi symbolism. Or Darth Vadar's tendency to choke everyone that comes within ten feet of his helmet.
But enough about all that. On to more important matters.
Did Jaba the Hutt boink Princess Leia?
Consider the evidence:
In
Return the Jedi
, Hutt forces Leia into bondage and tries to shove his icky slug tongue down her throat (this was a family movie?!!). As C3P0 turns away, unable to watch, Hutt licks her face and says, "In time you'll learn to appreciate me." The camera cuts away.
Ewwwwwww.
If I could con my way into graduate school, I'd no doubt write my English thesis on this oh-so important topic. Given the subject matter others in my field of study have been
tackling
, and with enough neo-feminist, five-hundred syllable buzz words, I'd easily score at least a B+.
Ahhhh, academia.
I love it so.
This debate has no doubt raged on in other forums but I just encountered it
here
, at IMDB's. Personally, I don't think Jabba got past first base. The two parties are different species so it was probably technically impossible. If he had made a move, given his weight problem, he would have crushed Leia and her
industrial strength metal bikini
. Furthermore, consider the intergalactic mobster's mindset. With Han Solo encased in carbonite as a trophy and his "passion" for feeding women to his pets, Hutt was an asexual sadist. Perhaps the root of his anger directed towards women and space studs like Han was due to an inferiority complex or impotency brought on by extreme obesity. I should have digressed a paragraph ago but I guess it's too late. The digressing begins...now.
Chicken hermaphrodites?
Ronald Reagan penis donuts?
Hutt sex? That Dave Attell
picture
? What kind of blog is this?!!! Now consider this:
I think this picture speaks *two* thousand words.
Princess don't belong in the men's lavatory!
Luke is smiling and peeking over at Han. Han looks angry. What the bloody hell is going on here?
If you really want an explination and a look at an incredibly rare bit of
Star Wars
lore, click
here
. If you think it's best left up to imagination then, well, I don't want to hear about it.
Perv!