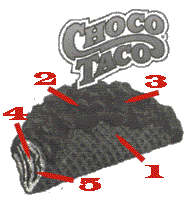 It's roughly
five hundred billion degrees
in Portland right now. And what better way to ring in the delayed arrival of the season then by gorging on Choco Tacos?
Earlier today, I ate at Mexicali
Express
, a fast food joint out in Beaverton. They have an entire freezer devoted to the delectable ice cream treats; practically a shrine. If you've never dug into a Choco Taco, you're really missing out on what could be the
greatest mass-produced desert EVER
.
Drumsticks? M&M sandwich cookies?
Puhleaze...
I had time to kill during my lunch break so, in the name of science, I decided to
dissect one
. Unfortunately, I didn't have a camera with me.
So what makes a Choco Taco tick? The shell itself is made of the same sugary bread substance that make up ice cream cones. Along the top, nuts and a
hard chocolate "exoskeleton"
take the place of the lettuce and tomatoes that you might find in more traditional tacos.
Carefully slicing along the edge of shell, I opened the taco and examined its innards. Instead of the complex circulatory system typically found in Drumsticks or brown cow ice cream, I found something else entirely. Inside, in place of ground beef or chicken, I was shocked to discover...vanilla ice cream. That's it. Just vanilla ice cream.
Despite its unsophisticated insides, the Choco Taco is brilliant in its simplicity. The desert is also extremely illusive. When was the last time you saw one for sale? They can be tough to find and their territory seems to consists of only locally-owned Mexican fast food restaurants. As their homestead continues to be threatened by the ever-expanding Taco Bell franchise, the Choco Taco may one day
vanish from Portland entirely
.
Mexicali Express is one of the last local refuges for the Choco Taco. Write your congressman. Start a organization called the
Choco Taco Wildlife Fund
. The fate of these noble pre-packaged deserts rests in your hands.
PS: I'm apparently not the first person to outline the insides of Choco Tacos, although the author of the following doesn't hold them in the same regard as myself. Click here for more
info
.